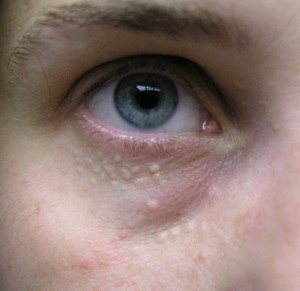 ni bukan gamba mata aku..hasil pak google jek tp nama bg masalah kulit ni adalah syringoma..hari tu tanya apak kimi
bah..ce tengok bawah mata ni..ada biji2 la..makin lama makin banyak
mana..jap..jap (sambil tangan capai torch light)..-laki mak hover tau..tu pon nak torchlight bagai
nampak takkk
oo ada..macam biji2..ni mmg dah ada lama la..sebelah sana tu pon sama..atas dahi tu..(sambil tunjuk2 dahi den...)
hovernyeee..takyah la mention dh lama hado..
korang ada masalah ni tak? selain pegi buat laser pebenda blh try ek..ke nak pegi jumpa pakar kulit..nak buat appointment dkt pakar sakit puan pon mkn masa 4 tahun ni ada hati nk ke pakar kulit..idak le gamaknye tu kann
bila google dia kata Syringoma ni benign tumor..kan..sib bik benign so nak try home remedy ni
Syringoma Home Remedy
This is a persisting condition and home remedies are usually ineffective in curing the disease. However, affected patients may try certain natural remedies that may bring about a little improvement in their skin condition. These include:
Vegetable juice
Cut a potato or cucumber into half. Rub one halved slice of the vegetable for 5-10 minutes over the affected skin area. This will let the juice flow over the lesions from the section. Wash the area after 15-20 minutes. Doing this twice every day can make you see results after a week.
Fruit juice
Rub the hickeys with fresh juice of lemon or Apple cider vinegar. For added effect, you may also mix lemon juice with a little glycerin. This can help lighten any post-surgical scar marks and make them fade away much faster.
Almond oil
Gently massage the affected spots of skin with almond oil. Almond oil is extremely nourishing and supplies the skin with important nutrients. This helps abnormal growths over the skin fade away faster.
Aloe vera gel
Regularly washing the skin with Aloe vera gel can be highly beneficial for its health. Aloe vera can help in quick removal of scars that may appear after a surgical removal of the hickeys.
Sandalwood paste
Make a mixture of sandalwood, rose water and milk cream. Apply this paste over the skin blemishes. This mixture helps lighten the skin tone and promotes faster disappearance of post-operative scar marks.